"The STEM Days give students a chance to learn about challenging, fun, good-paying careers right here in our area."   Terri Brown, Director of College and Career Readiness for Kenton County Schools
Students toured a local manufacturing company to learn about careers in STEM.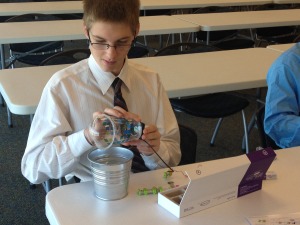 Gateways STEM Days are centered on STEM careers in advanced manufacturing and provide a purposeful and meaningful learning experience for 9th and 10th grade students in Northern Kentucky high schools.  Each STEM Day begins at Gateway's Center for Advanced Manufacturing with overviews of careers in the advanced manufacturing sector, job forecasts, and post-secondary education options.  Students then visit Gateway labs staffed by faculty and Gateway students, who conduct a demonstration or hands-on activity.  Finally, students visit a local advanced manufacturer to learn about one particular company, its job opportunities, and its expectations of its employees.   Company visits includes lunch and time on the manufacturing floor to observe high-tech manufacturing processes.
Sponsors
---