Out of school kids often forget what they've learned, resulting in summer learning loss or the "summer slide."
Summer of STEM creates opportunities for students to explore STEM learning and careers specifically during the summer months.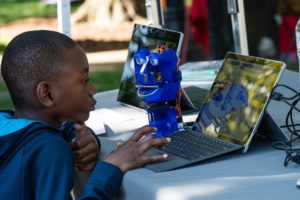 Read about the 2nd annual End of Summer / Back to School STEM Festival here!
Thank you, Summer of STEM 2019 Festival Exhibitors! Montage #1 Montage #2
Check out this great line-up of summer 2019 GCSC-supported camps!
Summer of STEM 2018 Impact Brief
Check-out the full Summer of STEM 2018 gameplan
Girls in STEM do Summer of STEM
Summer of STEM adds fun learning to students' carefree months out of the classroom
New Summer of STEM program takes off in Cincinnati